The Ingredients
Taplin & Mageean Craft Gin
Taplin and Mageean produce 4 ultra-premium gins. Each is made with a recipe that allows the taste to evolve when sipped, with the different botanicals presenting on the taste buds at different times. Each gin uses the best grain neutral spirit, the best botanicals, and optimal soak times so that flavours can be layered.


The best gins — like good stories — have a beginning, a middle, and an end, each combining to create a unique taste journey that in the case of Taplin and Mageean encapsulates the essence of the Yorkshire Dales. During the trial process for all our gins, we start by plotting an intensity vs time graph for each botanical. This allows the overall sequence of flavours to be orchestrated before inception. Our distiller then meticulously trials different botanical combinations to work towards the target creation.
Signature Edition
Taplin & Mageean Signature Edition craft gin is a juniper heavy gin distilled with both dried and fresh grapefruit zest for an alluring and emphatic citrus hit. A robustly dry gin, masterfully compliments by Yorkshire hops, flowers, and spice.
Spiced Orange
Taplin & Mageean Spiced Orange craft gin has a distinct orange zest and juniper flavours is surrounded by a bold but balanced array of fig, cranberry, and cinnamon. Warm winter fruit flavours dance over a hazelnut and almond core with an ever so slight suggestion of spice.
Peach & Basil
Taplin & Mageean Peach & Basil craft gin has a generous helping of peaches, apricot, and vanilla make this beautifully balanced recipe deliciously palatable. Cocoa & Angelica root bring a full body to support the sweet and summery headline and finally a refreshing basil and pink peppercorn finish caps off a delectably complex experience.
Elderflower Orchard
Taplin & Mageean Elderflower Orchard craft gin is just simple and delectable. Elderflower Orchard comprises juniper, coriander, and orris root core, fragrantly supplemented by elderflower, chamomile, and and locally grown apples.. A subtle cinnamon undertone brings warmth to this light and floaty gin in a unique and complimentary way.
Wensleydale Spiced Rum
Alongside our award winning craft gin, we recently launched a distilled spiced rum called, Wensleydale Spiced Rum. Wensleydale Spiced Rum is a truly uniquely versatile spiced rum which encapsulates all the great flavours that a spiced rum should do.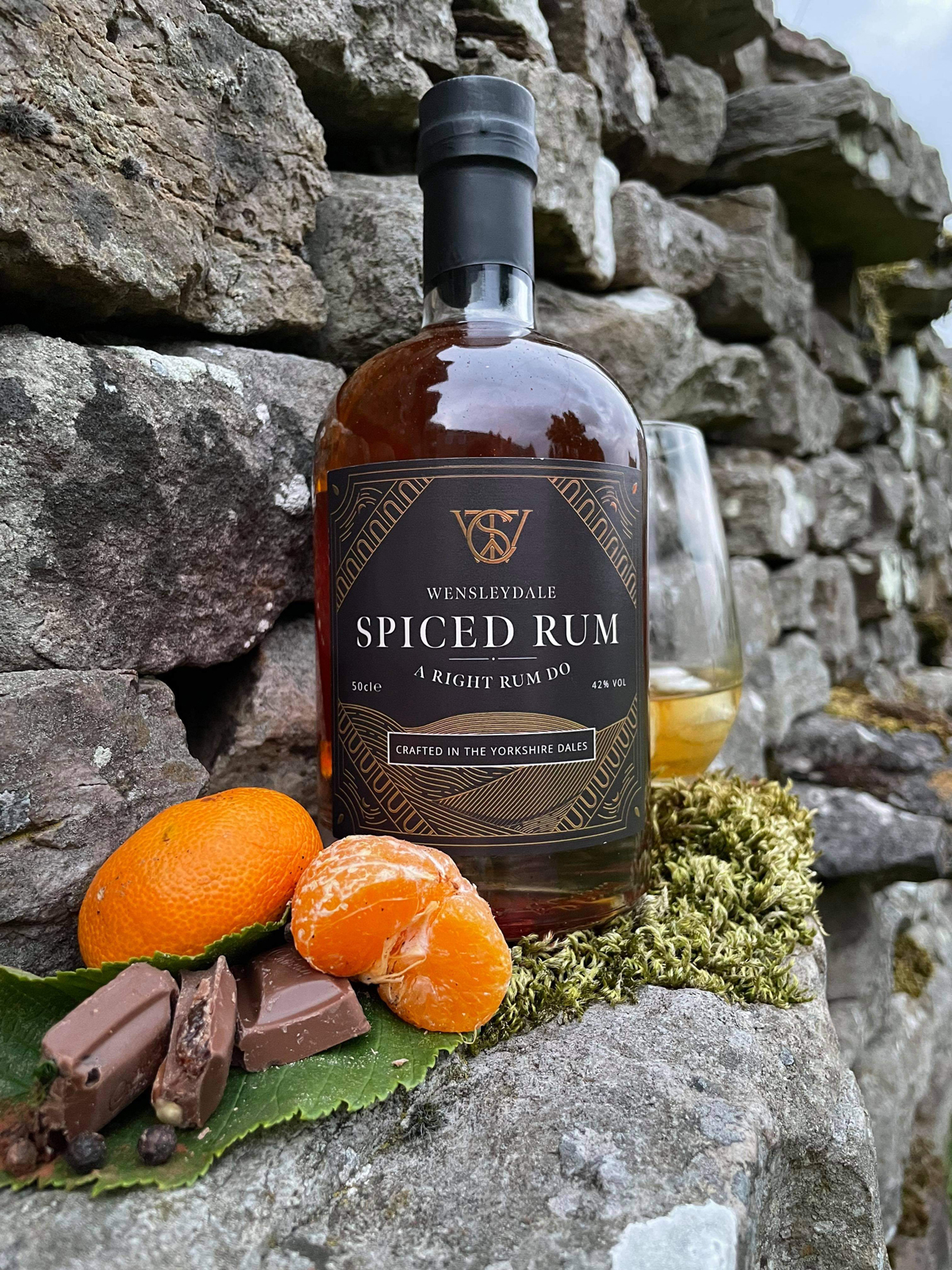 Once fermented, our Wensleydale Spiced Rum is double distilled in alembic copper stills, where we add a subtle combination of honey, cocoa, vanilla, mandarin zest, fresh ginger, black pepper, and cardamom, producing a beguiling and accessible taste sensation. Except for the honey and vanilla which do not process well, no other botanicals are added post-distillation. The skill is balancing the botanicals to ensure that the taste journey is optimised, each note having the correct intensity and hitting the palette at the right time to achieve the precise taste experience when drunk.